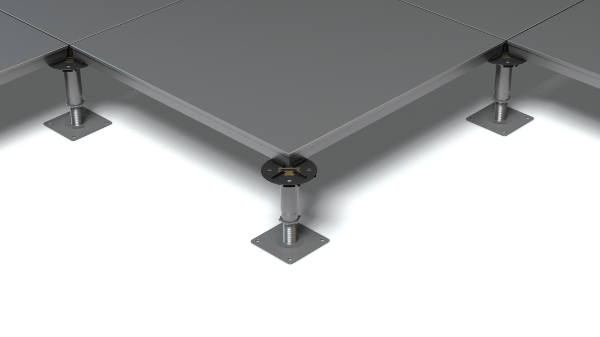 Welcome to The Access Flooring Company – Your Trusted Source for High-Quality Raised Access Flooring Solutions in the UK!
At The Access Flooring Company, we specialize in supplying and installing top-quality raised access flooring for a wide range of commercial and industrial applications throughout the UK. With over 30 years of experience in the access flooring industry, we've built a reputation for delivering outstanding quality and service to our clients across the UK.
We take pride in offering a comprehensive range of raised access flooring products that are manufactured to the highest standards of quality and durability, using only the finest materials and construction techniques. And with the majority of our products in stock, we can offer quick and efficient delivery times to ensure that your project stays on schedule.
Our team of experienced professionals will work with you to ensure that your flooring system is installed quickly, efficiently, and to the highest standards of quality. And if you ever need maintenance or repair services, we're always here to help.
Access Flooring has evolved to be the solution for buildings needing to safely and securely incorporate electrical and mechanical services. There are raised flooring solutions for offices, computer and server rooms and many other applications. 
If You have a Project in mind, Contact Us Now for free advice on products, specifications and costs.
Raised Access Flooring Design Considerations.
In the Raised Access Flooring design, you will want to incorporate a sufficient void for your services and understand or calculate the floor loading that will be imposed. You will also want to give some thought to the ultimate finish or aesthetics and the amount of access that may be required to the services below. We supply a wide range of different raised access floor tiles with different finishes to suit your requirements. Whatever your needs, we will help and advise you to ensure you find the correct products and design for your project.

You may want check out our Frequently Asked Questions page which has many answers to the most common questions on raised access flooring, or you may want to understand the raised floor specifications and write your own for a special requirement. Please take a look at our previously completed projects here.
Full Access or Partial Access ?
You may just want a lightweight alternative to a traditional sand and cement screed, with the weight saving and speed of installation or you may want to use the void as a plenum to distribute air around your building. You may need the finish of a screed but still need to access the void and in this instance, we are one of the largest suppliers and installers of Knauf Gifafloor raised flooring systems  and Lindner Floor and More.
If you have a need to match an existing access floor system, we have parts and the knowledge to fix many redundant products or we can custom build them to suit your purpose. We stock most sizes of raised floor pedestals and raised floor tiles and panels, we also have raised floor pedestal adhesives and raised floor panel fixing screws in stock.
Access Flooring systems are normally designed to last 25 years but will last a lot longer with regular maintenance. We regularly repair raised access floors that were installed in the 1980's or earlier.
Contact us today and we will be able to help you no matter how big or small the job is. Alternatively you may wish to visit our FAQ's page to see our most common questions and their answers.
Trade Counter
We keep stocks of all raised flooring components in our warehouses at Edenbridge Kent. As you would expect from one of the UK's leading raised access flooring contractors we can also deliver to you same day or next day if you are within radius.
So why choose us for your raised access flooring needs in the UK? Here are just a few reasons:
Fast Delivery: With the majority of our products in stock, we can offer quick and efficient delivery times to ensure that your project stays on schedule.

Quality: We use only the finest materials and construction techniques to ensure that our raised access flooring products are built to last.

Service: We pride ourselves on providing outstanding customer service and support at every stage of the process, from initial consultation to final installation and beyond.

Value: We offer competitive pricing on all of our products and services, so you can get the high-quality flooring solution you need at a price you can afford.
So if you're looking for a reliable, experienced, and professional supplier and installer of raised access flooring in the UK, look no further than Access Flooring. Contact us today to learn more about our products and services, and to request a free quote for your project.