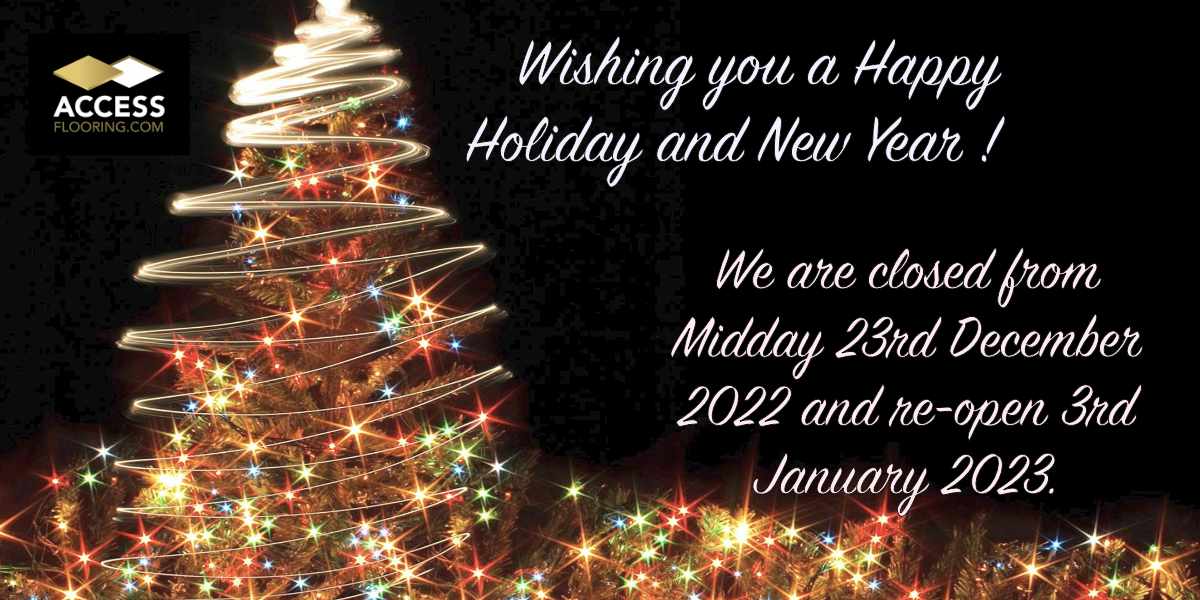 We are the UK Raised Flooring Specialists, and can Supply and Install from Stock.
Access Flooring has evolved to be the solution for buildings needing to safely and securely incorporate electrical and mechanical services. There are raised flooring solutions for offices, computer and server rooms and many other applications. 
If You have a Project in mind, Contact Us Now for free advice on products, specifications and costs.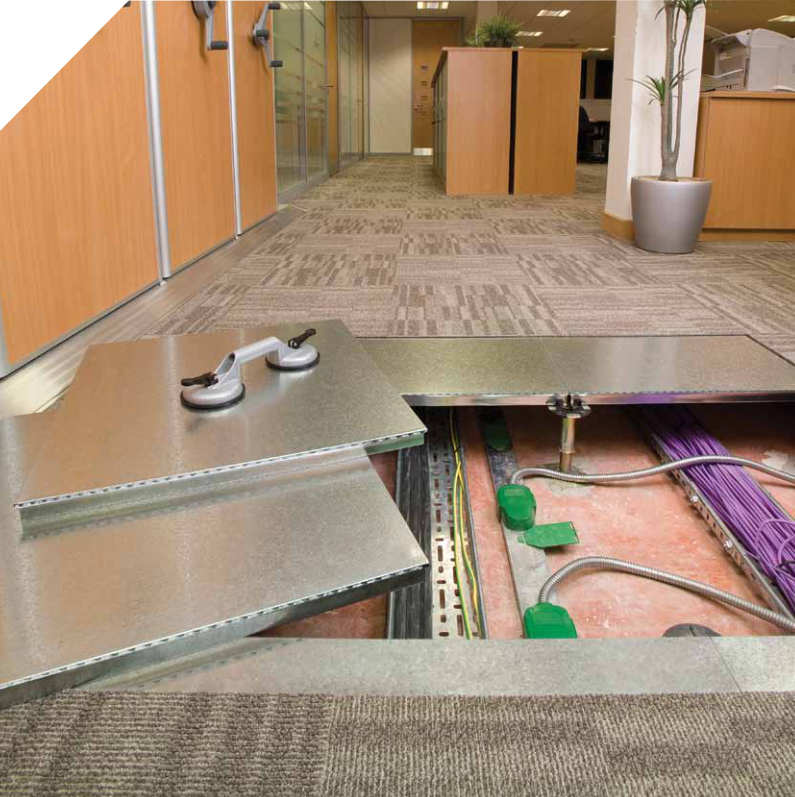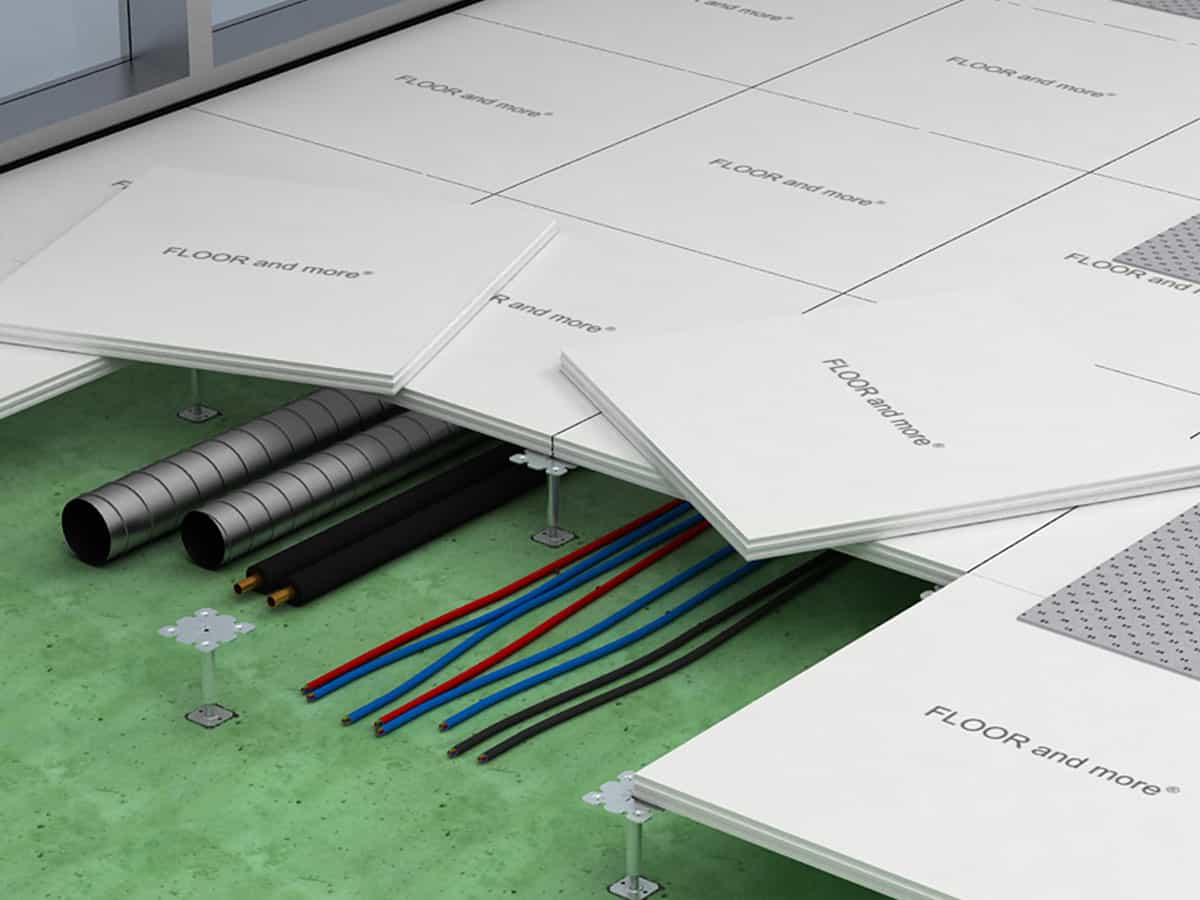 Full Access or Partial Access ?
You may just want a lightweight alternative to a traditional sand and cement screed, with the weight saving and speed of installation or you may want to use the void as a plenum to distribute air around your building. You may need the finish of a screed but still need to access the void and in this instance, we are one of the largest suppliers and installers of Knauf Gifafloor raised flooring systems  and Lindner Floor and More.
Raised Flooring Design Considerations.
In the flooring design, you will want to incorporate a sufficient void for your services and understand or calculate the floor loading that will be imposed. You will also want to give some thought to the ultimate finish or aesthetics and the amount of access that may be required to the services below. We supply a wide range of different raised access floor tiles with different finishes to suit your requirements. Whatever your needs, we will help and advise you to ensure you find the correct products and design for your project.

You may want check out our Frequently Asked Questions page which has many answers to the most common questions on raised access flooring, or you may want to understand the raised floor specifications and write your own for a special requirement. Please take a look at our previously completed projects here.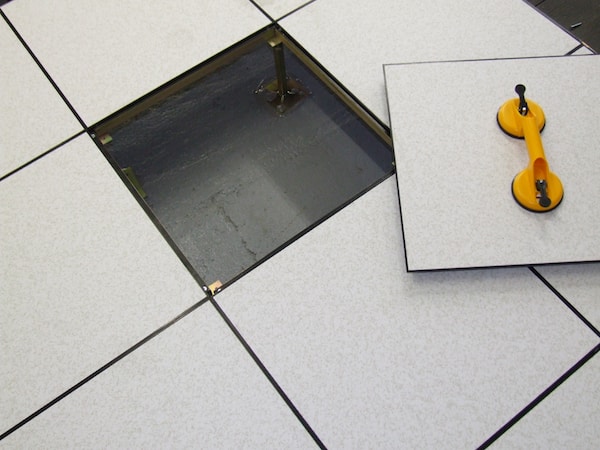 If you have a need to match an existing access floor system, we have parts and the knowledge to fix many redundant products or we can custom build them to suit your purpose. We stock most sizes of raised floor pedestals and raised floor tiles and panels, we also have raised floor pedestal adhesives and raised floor panel fixing screws in stock.
Access Flooring systems are normally designed to last 25 years but will last a lot longer with regular maintenance. We regularly repair raised access floors that were installed in the 1980's or earlier.
Contact us today and we will be able to help you no matter how big or small the job is. Alternatively you may wish to visit our FAQ's page to see our most common questions and their answers.
Trade Counter
We keep stocks of all raised flooring components in our warehouses at Edenbridge Kent. As you would expect from one of the UK's leading raised access flooring contractors we can also deliver to you same day or next day if you are within radius.
We have more than 25 years' genuine experience in this industry, not just selling but installing, manufacturing and designing. We deal with many Blue Chip corporate clients, architects and end users, but also small business and specialist contractors. We like to take the time to understand our clients' needs and advise them of the best solutions which are not necessarily the most expensive. We have vast knowledge on  all different types of flooring projects and raised access flooring systems, with us you are in good hands as we are one of the UK's original raised access flooring suppliers. We are proud of the fact that we are access flooring solutions specialists.
When you call us, we want your business but we also want you to be satisfied with all aspects of our service as we are looking for a future relationship, we would not have a business without repeat customers. We have a firm grasp of Health and Safety issues so you can be sure we meet your legal obligations as an employer under the CDM regulations requiring skills, experience and competency, we are members of the CHAS and Constructionline Health and Safety Schemes. All of our standards fall inline with The Access Flooring Association specifications to ensure you peace of mind
We are unique in the industry as most of our installation teams are directly employed, that means we control the outcome and quality of your project directly. Everyone here is passionate and committed to getting it right and we ensure the highest standards, every time!