FREQUENTLY ASKED QUESTIONS

What is a Raised Access Floor and why use a Raised Access Flooring System ?

A raised floor (also raised flooring, access floor(ing), or raised access computer floor (ing) provides an elevated structural floor above a solid substrate (often a concrete slab) to create a hidden void for the passage of mechanical and electrical services.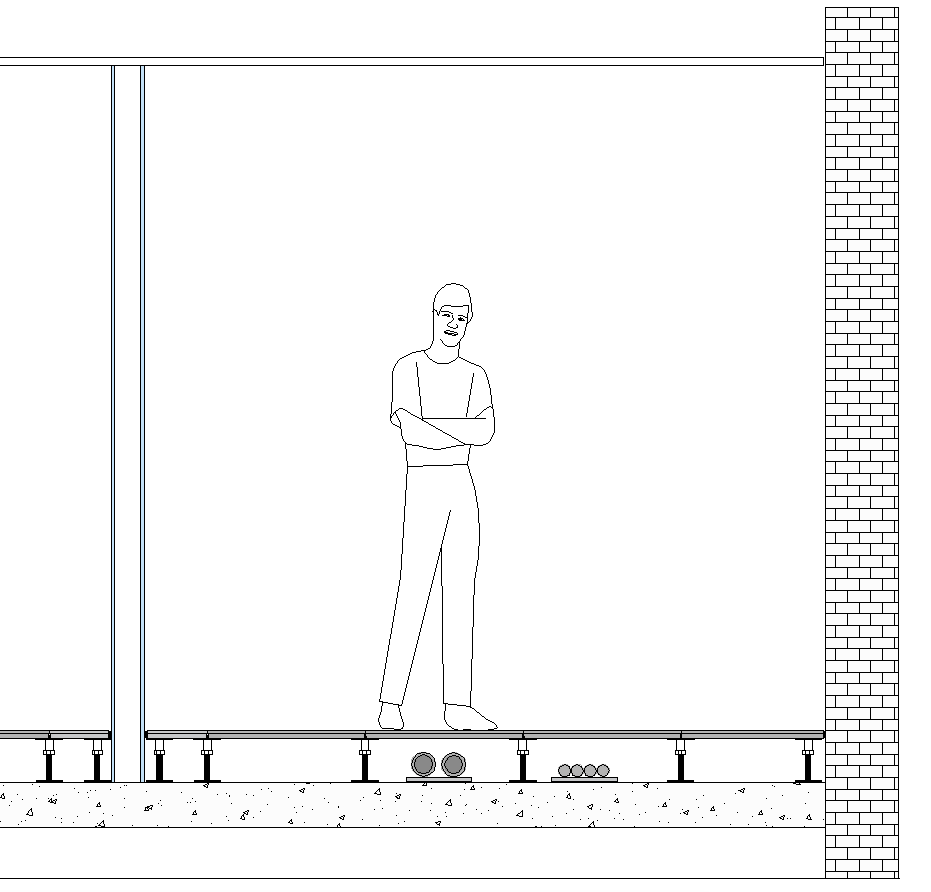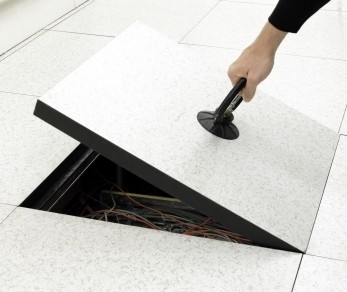 What are the benefits of using Raised Flooring Systems ?

Traditionally Architects designed buildings for a particular use and client to meet their client's needs, the electrical and mechanical layout would have been predetermined and would have catered to the clients business needs. It is recognised today that business needs change frequently. In the lifecycle of the building there probably will be a requirement in the future to accommodate a different working pattern or business need; or a new business altogether or purpose for the building. Flexibility to this new unknown requirement is now designed into buildings and this is accommodated in one way by the use of raised access flooring systems. Raised Floor Systems allow services to be hidden in a void created in the floor and enable easy access both when installing and maintaining the services. They also enable the workspace to be easily re-configured to a new application or purpose. Benefits also come from lowering initial build costs due to faster construction times both at inception and when changing the use or reconfiguring the use of space.
Where are Raised Floors Used ?
Modern Office Systems utilise a bare raised flooring panel i.e. One that is not pre-finished. They then overlay this panel with a modular carpet tile temporarily bonded to the raised floor tile by way of a tackifier ( such as Stycobond F41 ) adhesive or magnetic backing.
Computer Rooms, Server Rooms, Data Centres are one of the primary uses of raised access floor systems as in our modern digital age the use of computers within the workplace has grown exponentially. The ability to house computers and servers in a dedicated environment is necessary and this will almost always require the installation of raised flooring system.
Mechanical Switch Rooms and Control Rooms. Raised Floor systems are commonly found in factories, utility processing facilities where they provide a safe environment for the termination of control switchgear and electrical and mechanical services within a plant.
Retail Use. It is very common to now see large retail outlets use raised flooring within their sales space. It allows for the fast reconfiguring of the store with point of sales systems, lighting and layouts.
Residential Applications. We are starting to see raised flooring systems be incorporated into residential dwellings. With the expansion of the internet and on-demand and online media many people are choosing to have indoor cinemas or require a system to hide cabling and pipework. We are also seeing the growth of older offices being changed into residential dwellings by way of a raised floor installation to accommodate soil pipes and other utilities.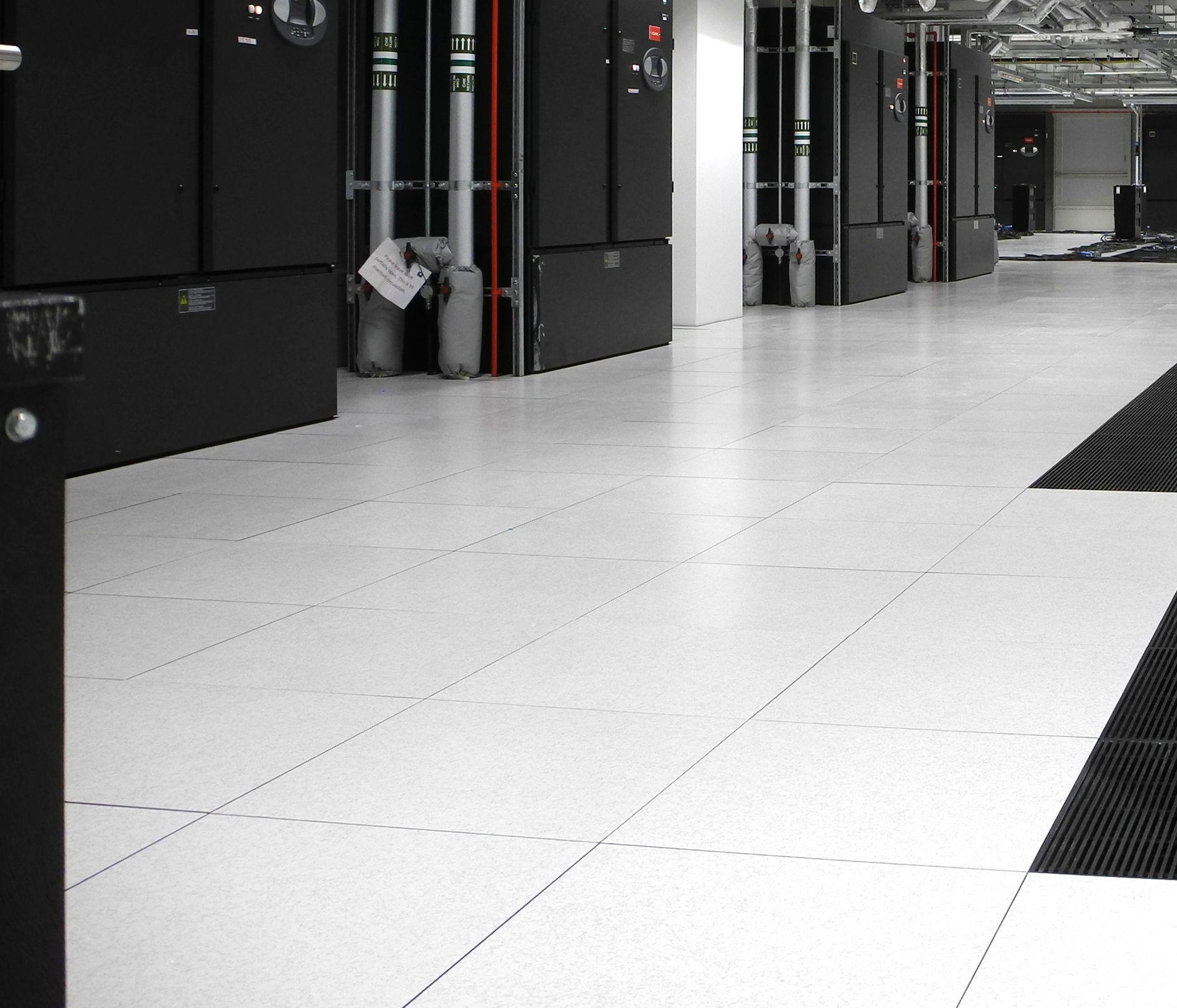 What Components are there in a Raised Access Flooring System and there definition ?
Raised Floor Panel
Normally in Europe these are 600 mm x 600 mm modular raised floor systems although in the USA they have adopted a 2ft x 2ft raised floor system module. Panels come most commonly with a Bare finish for overlaying with carpet tiles in an office environment. In Computer rooms and Data Centres or any application that requires swift access to the void the panels will come pre-finished with an anti-static finish. .
Raised Floor Pedestal
This is the support that is required that is normally at the corner of where four panels meet. It is normally of corrosion resistant material, normally metal. It will be adjustable to accommodate deviations in the sub-floor which is normally achieved by having threaded components. The raised floor pedestal will also normally have a locking nut or locking ring to prevent movement in the head.
Raised Floor Gasket
This normally refers to a cap that sits on top of the pedestal that provides a non-metallic cushion for the panel and its interface with the pedestal.
Raised Floor Stringer
This is a horizontal bar that will attach to the pedestal head either by simple hook type arrangement or be permanently fixed by way of a locking screw or similar. Its purpose is to offer stability to the raised floor system when installing high raised floors normally defined as those over 450mm.
Raised Floor Grommets
These are typically round or rectangular and allow the passage of services from the void to the topside of the floor . Within Data Centre raised flooring installations there are specific products that have brush seals to prevent the air leakage through apertures..
Raised Floor AIrgrills
These are air handling devices that will allow air that is being pumped into the raised floor void to escape into the workspace in a controlled manner. The most common use of these is in computer rooms and data centre raised flooring installations where they will have a hot aisle / cold aisle regime which controls the temperature to the server racks .
Raised Floor Electrical Outlets
In many offices there is a requirement to access power and data and telephone services at a workstation or desk. This is commonly achieved by the hardwiring of a modular Floorbox which will contain electrical and data outlets which the user can access. These will come in many configurations depending on user requirements.
Raised Floor Pedestal Adhesive
Normally raised flooring pedestals are bonded to a substrate with a strong adhesive. This will typically in the UK be a Polyurethane adhesive which has low volatile organic compounds but provides a very strong bond. We are always happy to discuss your raised flooring requirements .
Raised Flooring Panel Lifter
A variety of lifting tools is available to lift raised flooring panels the most common of these are suction type tools.
Raised Flooring Perimeter Expansion Gap
It is best practice to finish any cut panels close to the perimeter of any area of space. In practice the panels is cut short and a compressible gasket 25mm x 10mm is fixed to the cut edge directly abutting the wall. This gasket is commonly made from Polyethylene or Neoprene and will be fire retardant.
How low and how high can the Raised Flooring System ?
Raised Floors typically need to be able to create a void as this is their primary purpose. Raised Access Flooring Systems can go to 50 mm system height and with sufficient bracing to 2 metres or more although this is not common. Typical heights and their application are below. Offices are typically 100 mm to 250 mm raised floor system height. Computer rooms typically have 250 mm to 900 mm raised floor system height.
Which Raised Floor System should I choose ?
This is primarily going to depend on your use ? how much void you need ? how much weight does the floor need to take ? How often are you going to access the void ?. To better understand the specification process , we provide a guide to Understanding Raised Flooring for the Specifier which can be downloaded by clicking this link, this will give you an in depth understanding of the raised flooring specification process.
How much weight can the raised access flooring system take ?
The system needs to be able to withstand the design load for you application. Typically office systems have working loads of greater than 200kg point loads and 800 kg per m2. Server Rooms and Computer rooms will normally have point loads of 450kg and 1200 kg per m2. All systems will normally have safety factors which will be a factor of 3 of the working load before collapse.
How much weight does the raised flooring system add to the Building Structure ?
A typical raised flooring system will normally add 35kg or more per m2 to the load of the structure but this is rough guide as it depends on the type of panel and height of the raised floor system..
Are there any Standards governing the Manufacture and Installation of Raised Flooring ?
There are many worldwide standards governing raised floor manufacture and performance the predominant standards in the UK are PSA MOB 801 PF2 PS and the European harmonised standard BSEN 12825. To learn more about these standards; we provide a guide to Understanding Raised Flooring for the Specifier which can be downloaded by clicking this link, this will give you an in depth understanding of the raised flooring specification process.
What is the expected design life of a raised flooring system ?
Most Systems have a design life of 25 years for the panels and 50 years for the understructure. In actuality we have seen many systems exceed these time limits if well maintained.