GIFAfloor is an excellent Raised Flooring System which is used where a concrete or cement screed would normally be used, but where access to the void is still required.
The system comprises of high density gypsum flooring grade tongue and groove boards in sizes of 1200mm x 600mm and 600mm x 600. Various thicknesses are provided to achieve required floor loadings. The boards are Tongue and Groove which are bonded together to form a flat screed like surface.
If access to the void is required, it is achieved by utilising a proprietary access hatch which can be incorporated into the GIFAfloor raised flooring system during installation.
Uniquely among Raised Access Flooring Systems ceramic tiles and other floor finishes can be fixed directly to the surface of GIFAfloor.
Gifafloor Installation Video
Watch the installation video adjacent to understand the installation process.
Furthermore GIFAfloor can incorporate a under floor heating system by purchasing pre-channelled boards that can contain the flow and return pipes within the heating system. Download the attached Datasheet or Specification Guide for more information
Gifafloor Bespoke Machining
We are very experienced in working with Gypsum boards and we have a state of the art CNC router in our facility in Kent.
We are to able to form any shapes or designs in to a gypsum board, whether a straightforward rebate as the adjacent video or a complex underfloor heating design.
In this video we are rebating the board to form an expansion joint/slip joint in the floor where two structures meet each other. All the machining was done off site and transported to the installers, cutting down on installation time and site waste.
Contact us today if this is a project that you would like a consultation on.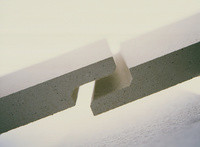 Knauf Brio is an engineered gypsum flooring panel with 60% recycled content, specially developed for use in new or refurbished residential and commercial buildings. It sounds almost too good to be true. It's a strong, lightweight and quickly-installed dry screed system. Brio has a very high thermal conductivity (R = 0.38 W/mK) so heating response times are quicker and energy use is reduced. Once installed, Brio creates a robust monolithic floor with a high density of 1100 – 1200 kg/m3, and so reduces impact and airborne sound transmission. With a wholly dry installation process, Brio maximises on-site efficiency too. And it's backed by Knauf's unrivalled service and support.
Suitable applications:
Fully supported floors for new and refurbishment projects*
Over UFH systems
Acoustic solutions
Knauf Brio Installation Video